PEGASUS SPORT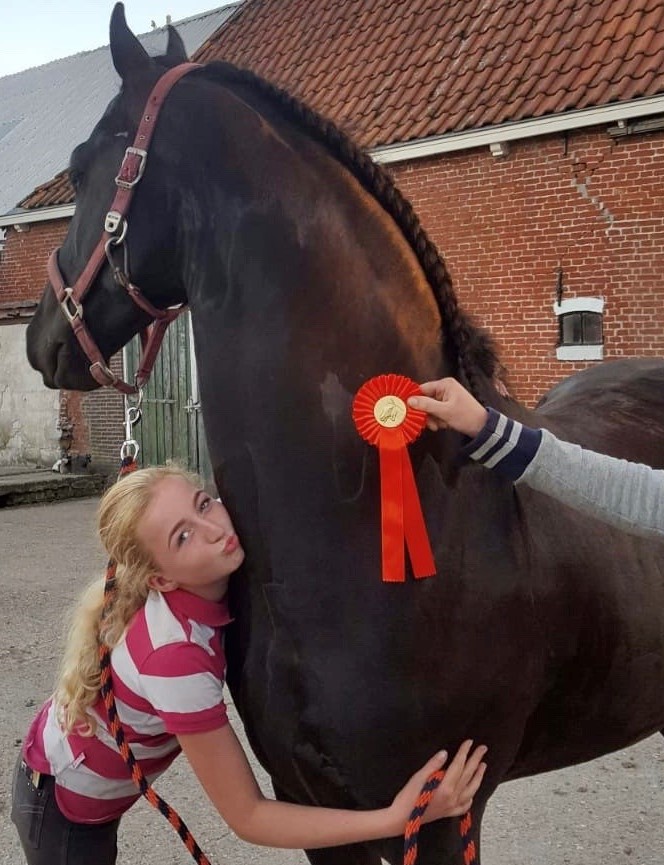 Buying Price:
TBA
Videos
Horse Description
Height: 16.0 hands
I have personally known Pegasus for MANY years, as my friends in the Netherlands bred and raised him---and havent been quite ready to sell him to me---until (drum roll) the year of the covid.(ugh!) In all honesty, Pegasus has accomplished so much already in Europe, he is ready to make someone in America VERY happy!
I have rarely seen such a phenomnal paper on one of our horses; his motherline is just unbelievable:
KROON+Pref+Prest AA-MODEL-STER+Pref-STER+Pref
His mother is Crown pref prest. AA which means she has at least 4 star children and 3 sportpredicate children (in her case 4).
His grandmother (Arendina) is a model mare and his greatgrandmother (Gezina) is a crownjewel star mare; this means she is double preferent, so over 8 star childeren. She is the only one in the whole studbook that became double preferent on her first 8 offspring!!!!
Pegasus has been ridden to the sport predicate by my friend Jitske, and has been ridden (and still is) by different novice riders.
He has easy smooth gaits and a dream canter. When he's being made excited he can be a saddleseat horse, and very showy. He adjusts himself to whatever the rider asks of him.
This is an extremely RARE opportunity to acquire a 7 yr old EXPERIENCED 3rd level dressage schoolmaster that has had the utmost of care, owned and bred and loved by a family that has trained him slowly and correctly----here is a friesian that you can literally take straight into competitition, OR enjoy as a lovely All Around Pleasure/Trail/Dressage Horse, fully vetted recently and xrays available for review with your vet.


Pegasus is intelligent and friendly, and IMPRESSIVE with noble and regal looks, correct and strong conformation-----in short, a gorgeous Friesian, a real head -turner, that is trained to do it all, even JUMP!!!! Loads of mane, with a long forelock, heavy tail and feathered legs. He has outstanding ground manners, being very respectful of his handler's and their personal space, and is accustomed to being handled by small children. His upright conformation allows him to bring his hind legs well under himself. His movement is very swingy and light to the rider.
Pegasus is a lovely forward moving Friesian, not a spooky horse, but he's also not a lazy Friesian with no forward, that requires whips and spurs. He has quite a bit of experience in harness.

Dressage riders that have ridden/shown Pegasus have all really loved him and have ALL commented on his rocking horse canter!! Pegasus is super sweet, kind, and giving; wanting to please his rider at all times.
This is a RARE IDEAL age SPORT friesian with impeccable 3rd party verification of his training/accomplishments in 3rd level dressage, is now being offered for sale, and is very light in his movement, light in his contact, and his personality is priceless. He is a trooper out on trails and very courageous and curious in any situation. Call Janna at 415-272-2112----Pegasus SPORT will likely NOT last!
He is an ideal dressage or hack out horse, he doesn't spook and doesn't look at strange objects around. He's just focused on his work.
He loves to cuddle and eat lots of candy. He can be turned out with other horses, and is really social.
Pegasus is very reasonably priced for such an exceptionally well educated friesian for sale! He is a TREMENDOUS VALUE!!! $36,900 delivered to NY; and Chicago and LAX are 2k more.