RIO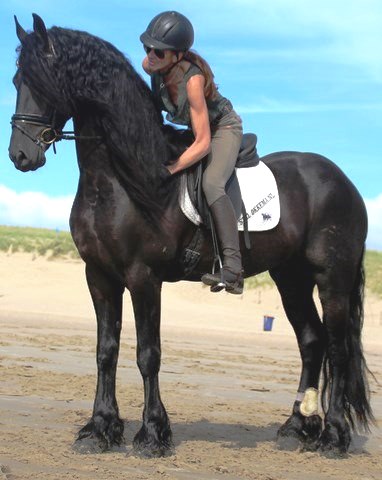 Buying Price:
TBA
Videos
Horse Description
Height: 16.1 hands
4 yr old, 16.1 hands and STILL GROWING. Perfect on xrays and pre purchase.

If you are looking for a JAW dropper, HERE HE IS!
THIS is the friesian for you!..... looking for one AMAZING, trained to ride and drive? This is a horse that will REALLY move quickly up the levels in dressage---already competing at FIRST LEVEL, and only a 4 yr old!!!
Rio, born 7/5/13, is an incredible friesian.... His pedigree is superb: He is out of a tall LEFFERT mare, and sired by the young phenom Alwin 469 who is taking Europe by storm...he sports a VERY low in-breeding co-efficient. Alwin 469 is known for producing horses with outstanding temperaments and beautiful heads.
Rio is a great moving well mannered boy with a curly LONG mane and tail. He is very sweet and loving, and double trained to ride AND drive, currently going 1st level dressage---with the potential for MUCH MORE! This is a REAL sporthorse, with amazing possibilities:):)
AND Rio is a real eye-catcher with powerful floating gaits and a stunning expression. He is a true Modern Friesian Type. He will steal the show everywhere he goes, and he absolutely has everything it takes to win in dressage AND a fantastic pedigree, to boot! This is a GORGEOUS friesian with dressage show experience that is reasonably priced and has great presence, and loves getting attention:) Rio's dam's sire, Leffert 306, produces impressive offspring for both dressage and pleasure/trail riding. Leffert 306 needs no introduction to the friesian world--he is one of the BEST of all time!
Rio has a luxurious and beautiful mane, tail and fetlocks, and is an impressively light but strong mover, with the temperament of a gentleman. We have been impressed with his lofty gaits, and natural charisma. This 16.1 hand and STILL GROWING 4 yr old representing the very best of Friesian Conformation, Movement, and Personality! This is a stunning boy. I personally rode Rio on the beach in the Netherlands on Jun 26th, and could not BELIEVE how well mannered this 4 yr old was, listening to my every cue, in the crashing waves. I frequently dont import such young horses---- but i LOVE the mind, AND the LONG upright neck, and beautiful head, of this gorgeous guy:):)

Isn't he something....he knows it, he shows it and he has what it takes to be a showstopper!!!! Buy him now, guaranteed this one WON'T last....
This one will NOT last at this price.